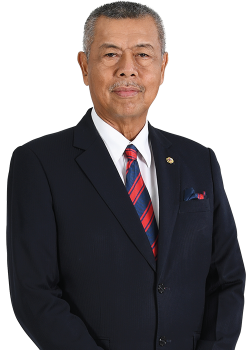 Laksamana Tan Sri Dato' Setia
Mohd Anwar bin Hj Mohd Nor
(Retired)
Independent Non-Executive Director
Malaysian, Male, 68 years old
Laksamana Tan Sri Dato' Setia Mohd Anwar bin Hj Mohd Nor ("Tan Sri Dato' Setia Mohd Anwar") (male) aged 68, was appointed as the Independent Non-Executive Chairman of the Company on 31 July 2014. He is also the Chairman of the Nomination Committee and Board Risk Management Committee of the Company. Besides that, he is a member of the Audit Committee of the Company.
Tan Sri Dato' Setia Mohd Anwar received his education at the Naval Base Secondary School, Singapore and the Officer Cadet School at the Britannia Royal Naval College Dartmouth, United Kingdom. He graduated from the Naval Staff College Rhode Island, USA Class 18 in 1981 and Joint Services Staff College in Canberra, Australia in 1988. He holds a Master's Degree in Engineering Business Management from University of Warwick, United Kingdom and was conferred an Honorary Doctorate of Doctor of Management by the University Terengganu Malaysia.
He served the Royal Malaysian Navy for thirty-eight and a half (38.5) years, commanded six (6) ships and also several Shores Bases. He rose to the rank of Admiral and took office as Chief of Navy in August 2003 and later became the first Naval Officer to assume the post of the Chief of Defence Force in April 2005 until 2007.
He was the President of the Malaysian Hockey Federation and is currently the President of the Malaysian Golf Association (MGA).
Tan Sri Dato' Setia Mohd Anwar was elected as the President of the Ex-Serviceman Association Malaysia (NGO) and continues to be President of the Retired Malaysian Navy Officers' Association (RMNOA).
He does not hold any directorship in public listed companies and listed issuers.
Tan Sri Dato' Setia Mohd Anwar attended all five (5) Board Meetings of the Company held during the financial year ended 30 June 2018.