Managing Director's Statement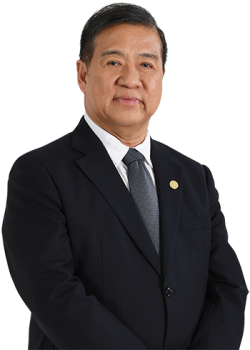 Tan Sri Dato'
Lim Soon Peng
Group Managing Director
In line with the improving market consensus for the 2nd half of the 2018 calendar year, we should see renewed interest in the property market for the next 12 months. Titijaya has in the pipeline three new projects to be launched by the end of the next financial year, namely Riveria City Phase 2, 3rdNvenue Phase 2, and Damaisuria. This is part of our strategy to achieve a higher total sales of RM500 million in FYE 2019 as compared to RM381 million registered in FYE 2018.
With respect to our achievements in the past financial year, I am pleased to share with our shareholders that Titijaya has shown itself to be a company that continues to excel in the belief of delivering quality. In FYE 2018, Titijaya had won the High Qlassic Achievement Awards 2017 at the Construction Industry Development's Quality Assessment System in Construction (QLASSIC) Day 2017 awards ceremony. QLASSIC is a system and method to evaluate quality of workmanship in building projects based on the Construction Industry Standard (CIS 7), thus winning it was a validation of our continuous efforts in staying on course to deliver high quality and affordable homes.
As for our financial performance in FYE 2018, the company's flat growth was impacted by higher operating and construction costs, as well as bigger spending required for marketing.
Despite these challenges, the company managed to launch five projects namely Taman Seri Residensi @ Klang, Phase 2B, The Shore @ Kota Kinabalu, Park Residency @ Cheras, 3rdNvenue @ Embassy Row, Phase 1 and Riveria City @ KL Sentral, Phase 1 – which received a commendable response from the market. These launches together with current projects progress helped the company record a revenue of RM381.36 million, and unbilled sales of RM320 million in FYE 2018.
STRATEGIC REVIEW
1) Strategic Landbanking
(i) Strengthening our foothold in Klang Valley with the Affordable Housing Segment
In line with the nature of the company business, Titijaya continues to identify suitable land banks for potential property development activities. Since we are now building affordable homes, the company strives to achieve a low land cost-to-GDV ratio for better contribution to revenue and earnings. By the fourth quarter of 2017 we had completed the acquisitions of NPO Builders Sdn. Bhd. (NPOB) and Sri Komakmur Development Sdn. Bhd. (SKDSB). Through the acquisition of NPOB, we gained access to 49.79 acres of land which shall be developed into commercial units, serviced apartments and affordable homes to be completed by year 2027. Now known as Damaisuria, it is one of our largest projects for the purpose of tapping into the affordable housing segment.
(ii) Geographical Expansion to the Vibrant City of Kota Kinabalu, Sabah
Meanwhile, the acquisition of SKDSB and subsidiaries of SKDSB provided Titijaya access to three parcels of land measuring a total Tan Sri Dato' Lim Soon Peng Group Managing Director Annual Report 2018 13 of 75.44 acres. These prime lands are located within the highgrowth and fast-maturing central development spine of Sabah, strategically located near to notable local landmarks and public transportation hubs. We are confident that property development activities done here will enhance future revenue after taking into consideration the surrounding development within vicinity of these lands.
2) Expanding Our Network of Partnership
Titijaya's commendable local knowledge and execution capabilties continued to receive recognition by reputable international peers in the industry.
2018 was a year that saw us furthering our efforts in establishing and utilizing strategic collaborations with property giants across the region. For instance, our successful partnership with CREC in FYE 2017 proved to be valuable to the company throughout this year as well. Titijaya had leveraged on CREC's strength in the construction sector to further enhance project quality and implementation. With these improvements, our projects attracted more buyers and investors locally as well as internationally.
After being recognised by CREC, a Fortune 500 company, we continued to receive endorsement by international peers, Titijaya through its wholly owned subsidiary Epoch Property Sdn. Bhd., entered into a conditional share subscription agreement with Tokyu Land Corporation ("Tokyu Land") which is a leading residential and commercial developer in Japan. This subsequently led to a Memorandum of Understanding signed between Titijaya and Tokyu Land in January 2018, to establish a provisional collaboration to share expertise and knowledge in the real estate industry.
Establishing working relationships with these big industry players have enabled us to further strengthen our capabilities with cross border experience, and subsequently benefit our customers with product offerings of a higher quality and better niche. Both parties are also keen to explore possibilities of further collaborations in the property development scene in Malaysia. This will surely enhance the earnings visibility of Titijaya and create higher value for its shareholders.
3) Access to Debt Capital Market
Titijaya had also established a RM 150 million Islamic Commercial Papers (ICP) programme which received a final rating of MARC-1IS, given for our established property development track record and relatively strong profitability. The Company made its first issuance under the programme in the year review. Funds raised will contribute to finance investment activities, working capital requirements and general corporate purposes.
Not long after, the following month saw the proposed share split be completed. This corporate exercise improved the trading liquidity of the Company's shares as a result of the increase in number of shares in issue, and allow a wider group of shareholders and investors to participate in the growth of the Company.
SUSTAINABLE GROWTH
Most of our developments tend to concentrate in the Klang Valley and Sabah. Moving forward, these two areas will remain in our focus for property development while we consider and plan for Penang to be the next destination for possible expansion. Although Titijaya currently possesses a land bank of 208 acres (inclusive of joint ventures) worth an estimated total GDV of RM12.4 billion to last until 2024, we plan to continue to be on the lookout for prime land because the company's strategy and competitive strength lies in having a low land cost against GDV ratio. Regarding recent developments, 64% of our projects have a remarkable below 12% land cost against GDV ratio, and those projects have contributed as much as 75% of our total GDV.
Land cost also is a significant factor in enabling our transition in recent years to offer more affordable homes in the market. As the cost of living increases for the general population in Malaysia, the higher is the demand for affordable housing. With Titijaya now actively involved in the affordable property segment, we are well-positioned to meet this demand and it is largely due to our land banking strategies over the years.
OUTLOOK FOR FYE 2019
The past financial year continued to be encouraging despite a still challenging market for most property developers. Factors such as sharp hikes in the cost of living and lower rates of loan approvals have resulted in a lower consumer sentiment for big ticket items and put the number of unsold residential properties in Malaysia at an all-time high. This has also caused most property developers to postpone their launches in the past year. However, despite such unfavourable market conditions, Titijaya managed to record a stable financial performance in regard to revenue and profit.
We expect the property market in Malaysia to show reasonable growth for the rest of 2018 as well as 2019, in lieu of the positive public consensus that has materialised after the general election. We are cautiously optimistic about the prospects of the property market.
However, as we understand that there are inherent risks in the industry that may disrupt economic activity. Similar to what has always been done, we will continue to monitor events and trends to ensure that the company is prepared to cover a wide range of unlikely but not impossible happenings.
As a company with the right product-to-market fit complemented with a land bank of well-developed and connected locations, the company is confident of stabilising the business and will continue investing in strategic activities to provide better quality and value to customers as well as shareholders going forward.
APPRECIATION
It is never a single person's effort that makes a company's success. At Titijaya, I value the contribution given by every member of the team. I take this opportunity to thank all my staff for their continuous support to the Group; it is their hard work, dedication and creativity that has put Titijaya to where it is today.
I would also like to express my sincere gratitude and appreciation to our Chairman, my fellow directors and management for their trust and loyalty in the past year. Without them, we would not have been able to execute our plans and complete what we set out to do.
To our esteemed shareholders, please accept our heartfelt gratitude for your continued support, confidence and trust in the Company. We will continue to work hard to provide better shareholder value to each and every one of you.