Managing Director's Statement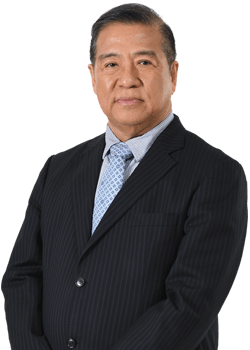 Tan Sri Dato'
Lim Soon Peng
Advisor (former Group Managing Director)
INTRODUCTION
Sustainability and Innovation Key to Emerge Victorious
The year 2020 certainly didn't take off with a good start for the industry, nation and world. One of the biggest impacts felt was the plunging crude oil prices, taking a toll on our oil-export reliant Malaysia and further suppressing the fiscal capacity of the country. This has led to an overall GDP growth projection to be at the lower end of BNM's 2020 forecast. The local economy this year would continue to suffer a setback due to the devastating impact that Covid-19 pandemic has brought upon.
Precautionary spending behaviour has set in among households and businesses, and if left alone, will inadvertently pull down the macroeconomy recovery. Although market sentiment is generally bearish no thanks to the Covid-19 pandemic and economic slowdown, Malaysia has been performing considerably better than many developed countries in staving off the worst thanks to its strong fundamentals and government leadership in prioritising the welfare of the people.
Apart from the suppressed growth Malaysia is facing, it is also important to acknowledge the fact that the current imbalance in the property market has been lingering for a number of years, still trying to find its equilibrium. The Group opines that moving forward, it is instrumental to remain prudent with very selective new launches and to focus on developing affordable properties.
Over the past years, the Group has laid the foundations for the future growth of its property development and other strategic investments to diversify our business segment. The implementation of the various action plans will continue to drive sustainable growth and expansion in the coming years.
Through close monitoring of our performance as well as our warchest, the Group is optimistic that we are able to power through these tough times, not to mention that we are always on the lookout for opportunities and deals in this gloomy market to develop our future sustainability.
For FYE2020, despite the challenging operating environment, the Group managed to maintain its track record of being profitable since our listing in 2013. The Group's 2H FYE2020 was severely affected by the MCO implementation which has caused a halt in the construction works subsequently affecting the progress and revenue inflow. The group recorded a profit after tax of RM2.2 million on the back of RM165.3 million in revenue.
The Group endeavours to continue deploying effective strategies with a refocus on affordable properties priced below RM600,000 to respond to the needs of the mass market segment. This is crucial to drive our revenue potential moving forward. On the other hand, the Group is also focused on developing the partnership front which will enhance the Group's future sustainability and prospects.
STRATEGIC REVIEW
Partnerships Key to Developing Sustainable Ecosystem
The Group has seen a multitude of benefits in stringing up partnerships and leveraging on external strength to grow the company from strength to strength. Over the course of the years, we have partnered international giants such as China Railway Group Ltd and Tokyu Land Corporation ("TLC") to jointly develop and leverage on each other's strength to spearhead the Group's growth.
We have benefited immensely from these partnerships, gaining recognition internationally on top of the operational expertise and experience shared. We value these partnerships and moving forward we will continue to speak to value-enhancing parties to grow and diversify our business operations. We reckon that working hand-in-hand in these environments would be the best way to overcome and emerge stronger from these crises.
Renewed Investment and Partnership with Tokyu Land
Our relationship with TLC continues to flourish, tracing back to 2018 when we embarked on a collaboration to jointly develop Mizu Residences which was completed and Vacant Possession arranged in January 2019.
In the financial year ended June 30, 2019 ("FYE2019"), TLC via one of its subsidiaries agreed to invest an additional RM80 million to joint-develop the estimated RM1.46 billion Riveria City development in Brickfields. Riveria City features an office suites tower and two towers of serviced apartments on top of a retail podium across a 3.045-acre piece of land.
The agreement also consists of marketing the products to the foreign markets to garner both international and local market. The joint participation with TLC in Riveria City will provide an avenue for growth expansion, as well as to tap into new markets with the advantage of having TLC's international presence and experience. Post-partnering with these players, we saw more foreign home-buyers, diversifying our customer base and embracing the multi-cultural diversity in our developments.
The additional investment and continued partnership are a feather in the cap for us as this has shown the trust and capabilities that we have demonstrated over the years are value-enhancing for our partners.
Maybank Houzkey – "Rent to Own" Scheme – Innovative Financing Solution
We are also proud to collaborate with Maybank Islamic to offer HouzKEY, a new way to own a home for our upcoming developments. This is an inventive home financing solution offered by Maybank Islamic and we are one of the exclusive developers that have collaborated with them to offer this innovative solution in helping the locals afford a home.
Under this financing scheme, our buyers get to enjoy 100% financing on their home purchases and zero payment during the construction period, alleviating the burden of having to fork up a huge sum of money during the early stages. Our pilot development is to target the owner-occupiers in the first phase of our Damaisuria township project, Seiring Residensi, and we see great synergy to work with Maybank Islamic to offer this financing scheme.
It is instrumental for us, as a developer, to provide for and enable Malaysians to own their dream home, which is why we are in collaboration with Maybank Islamic to solve the housing unaffordability issues.
Collaboration to Spearhead into Medical and Healthcare
The Group entered into a five-year agreement in April 2020 with a Chinese state-owned medical equipment manufacturer, Sinopharm Medical Equipment QuanZhou Co. Ltd ("SMEQ"), a part of a holding company vested in China National Pharmaceutical Group Corp ("Sinopharm Group"). This partnership entails developing a business that will be involved in the trading and distribution of medical and hospital equipment, as well as infrastructure, land and facilities for medical-related real estate.
We are extremely excited to collaborate with SMEQ to develop the business by tapping onto the supply and value chain in China, as well as Sinopharm Group's networks.
In August 2020, the Group signed a collaboration and distribution agreement with Rubberex Corporation (M) Berhad, a Malaysian listed entity specialising in glove manufacturing, to export gloves, personal protection equipment and medical products to China via our existing collaboration with SMEQ to tap into the increasing need in medical care and rapidly ageing population in China.
It is important that the Group continues to expand and diversify the businesses moving forward. The Group sees that the world is rapidly advancing into an ageing population and as countries develop, it is a natural course that the citizens demand quality healthcare making the sector a priority. This is evident in the battle against the Covid-19 pandemic whereby a large number of countries are urging upgrades and revamp of their healthcare system to prepare for any future unforeseen outbreak again. Hence, the Group has decided to seize this opportunity by collaborating with existing international players in our expansion into the healthcare industry.
This does not shift our focus away from property development, but it is a process for us to bank in on the health-care opportunities in the longer term as well as to better equip ourselves in the medicalrelated areas to synergise and offer top-notched facilities within our development in the future for better livelihood of our people.
PROSPECTS
Short-term Pain, Long-term Gain
Four OPR cuts were announced alongside an RM250 billion stimulus package by the Government since the outbreak of Covid-19 pandemic that has left a devastating effect on the economy. Despite the government measures, the property sector is expected to remain sluggish as concerns on rising unemployment and the higher inflation rate are expected to hurt the buying sentiment especially in the property sector. These have caused prospective buyers to adopt a wait-and-see approach, holding off purchases until the situation stabilises.
Hope for short-term recovery is difficult and the property players are expected to scale back their launches, re-strategise their pricing and timeline of their launches. We expect that the project rollouts will be targeted towards the lower to mid-tier market to tailor to the increasing market needs for lower-priced homes.
It is undeniable that moving forward, the prospects would be brighter post-pandemic in continuing the property market rebound. For the short-term, we expect to see a suppressed growth, albeit which would be akin to a catapult that is getting ready to propel its payload for better prospects.
In terms of our operations, we have to adapt and embark on an austerity strategy by staying lean. In-depth analysis and cost-cutting measures are being put in place to strengthen our financial position in the coming years. These short-term pains will be our catapulting mechanism to propel us and capitalise on growth opportunities once the crises subside.
APPRECIATION
In Titijaya, we always work as a team, move forward as a team, and celebrate as a team. I would like to acknowledge the valuable contributions of all of our staff for their utmost dedication to the Group.
In closing, I would also like to express my sincere gratitude to those who have put their confidence in our capabilities and played a big role in our growth who are our business partners, clients, vendors, and suppliers as they have continued to walk with us through thick and thin.