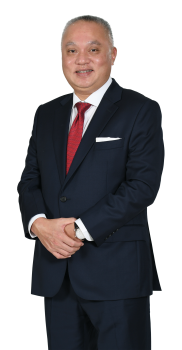 Dato' Faizal Bin Abdullah
Executive Director
Malaysian, Male, 52 years old
Dato' Faizal Bin Abdullah ("Dato' Faizal") (male) (Malaysian) aged 52, is an Executive Director of the Company and was appointed to the Board on 19 April 2021.
Dato' Faizal holds a Master of Business Administration from the University of Strathclyde, Glasgow, UK, ASEAN Senior Management Development Program from the Harvard Business School Alumni Club of Malaysia and an Advanced Diploma in International Management Studies from the Institute of Commercial Management, UK.
Dato' Faizal's working career started as a Corporate Advisor to Halimonn & Sons Holdings Sdn. Bhd. and Onn Ismail Sdn. Bhd. He subsequently left to join Wijaya Baru Sdn. Bhd. as Manager (Corporate Affairs) and within a year was promoted as General Manager of Wawasan Development Sdn. Bhd. (a subsidiary of Wijaya Baru Sdn. Bhd.). He was appointed as Director of Corporate Affairs in Wijaya Baru Global Berhad and in a short period of time, he rose to the position of Deputy Chief Executive Officer. A restructuring in the company saw his redesignation as Group Deputy Chief Executive Officer. From there, he was appointed as Group Chief Executive Officer of Maxim Global Berhad (formerly known as Tadmax Resources Berhad) and eventually, he was appointed Executive Deputy Chairman, a position he held for two (2) years. Upon his retirement, the company appointed him as a consultant for two (2) years.
Dato' Faizal was also Corporate Advisor to a number of companies including Inai Kiara Group of Companies, PT Menara Group Indonesia and PT Platindo Group Indonesia.
He is presently an Independent Non-Executive Chairman of Fast Energy Holdings Berhad, a company listed on the ACE Market of Bursa Securities.