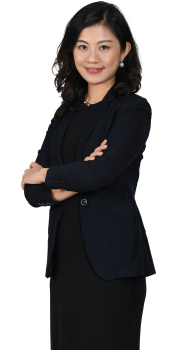 Lim Puay Fung
Executive Director
Malaysian, Female, 43 years old
Lim Puay Fung ("Charmaine") (female) (Malaysian) aged 43, is an Executive Director of the Company and was appointed to the Board on 24 September 2012.
Upon graduating with a Bachelor of Commerce (Corporate Finance) from the University of Adelaide, Australia in 2002, she joined the Group in 2003 as a Marketing Executive. She oversaw advertising, promotional activities, and marketing strategies for launches in the various development projects of the Group.
In 2007, she was promoted as the Group Sales & Marketing Director. She was responsible for the Group's product development, strategic planning, branding & conceptual development, interior design, and sales & marketing in the day-to-day operation.
With more than nineteen (19) years of experience in the property industry, Charmaine has created and executed marketing campaigns for numerous projects. As Executive Director, she is responsible for the Group's Sales & Marketing, Property Management & Leasing Division. In 2016, Charmaine received the 100 Most Influential Young Entrepreneurs award for her entrepreneurship.
Charmaine is the sister of Datuk Lim Poh Yit, the Group Managing Director. Both of them are substantial shareholders of the Company.
Currently, she holds directorships in Titijaya Foundation and a number of private limited companies.