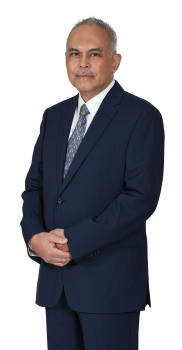 Tengku Dato' Sri Uzir Bin Tengku Dato' Ubaidillah
Chairman and Independent Non-Executive Director
Malaysian, Male, 64 years old
Tengku Dato' Sri Uzir Bin Tengku Dato' Ubaidillah ("Tengku Dato' Sri Uzir") (male) (Malaysian) aged 64, was appointed as the Chairman and Independent Non-Executive Director of the Company on 29 November 2022.
He graduated from City University, United Kingdom, with a Bachelor of Science (Honours) Degree in Civil Engineering in 1983.
Tengku Dato' Sri Uzir has vast business experience in various industries, especially in civil engineering, construction, plantation and property development.
He started his career with Jabatan Kerja Raya as an engineer before joining the private sector. Tengku Dato' Sri Uzir was the Managing Director cum Chief Executive Officer of Sumatec Resources Berhad from year 1990 to 1993. He has also served on the Board of Road Builder (M) Holdings Berhad, Kurnia Setia Berhad and Project Penyelenggaraan Lebuhraya Berhad, all of which are public listed companies. He was appointed as an Executive Director of Tanah Makmur Berhad in 2011.
Subsequently, he was appointed as Executive Chairman and Chief Executive Officer of Citaglobal Berhad in October 2013 and was re-designated as the Executive Chairman in November 2017. Thereafter, Tengku Dato' Sri Uzir was re-designated as Executive Vice Chairman in May 2020 and has served the Board of Citaglobal Berhad until September 2022.